Matchups to watch as the Oakland Raiders take on the Buffalo Bills in Week 8.
The Oakland Raiders are coming into Week 8 fresh off their biggest win of the season, an exciting win over the division rival Kansas City Chiefs. Derek Carr and company were finally able to play well against a KC team that has dominated them in recent years, getting a much-needed win as their season was spiraling out of control.
Next up on the schedule for Oakland are the 4-2 Buffalo Bills, and here are the matchups the Raiders must win in order to climb their way back into the AFC playoff picture.
Amari Cooper vs. Tre'Davious White
Tre'Davious White has been phenomenal for the Bills in his rookie season and should not be overlooked just become he is a rookie. Selected in the first round, he has been as advertised for the Buffalo defense and is a large reason for their 4-2 record.
Amari Cooper erupted against the Chiefs in Week 7 in what could be a sign of things to come. Cooper put up Madden-like numbers against the Chiefs, with 11 catches for 210 and 2 TD's. Cooper may not have that kind of night against White but he has to show up and can't go back into hiding.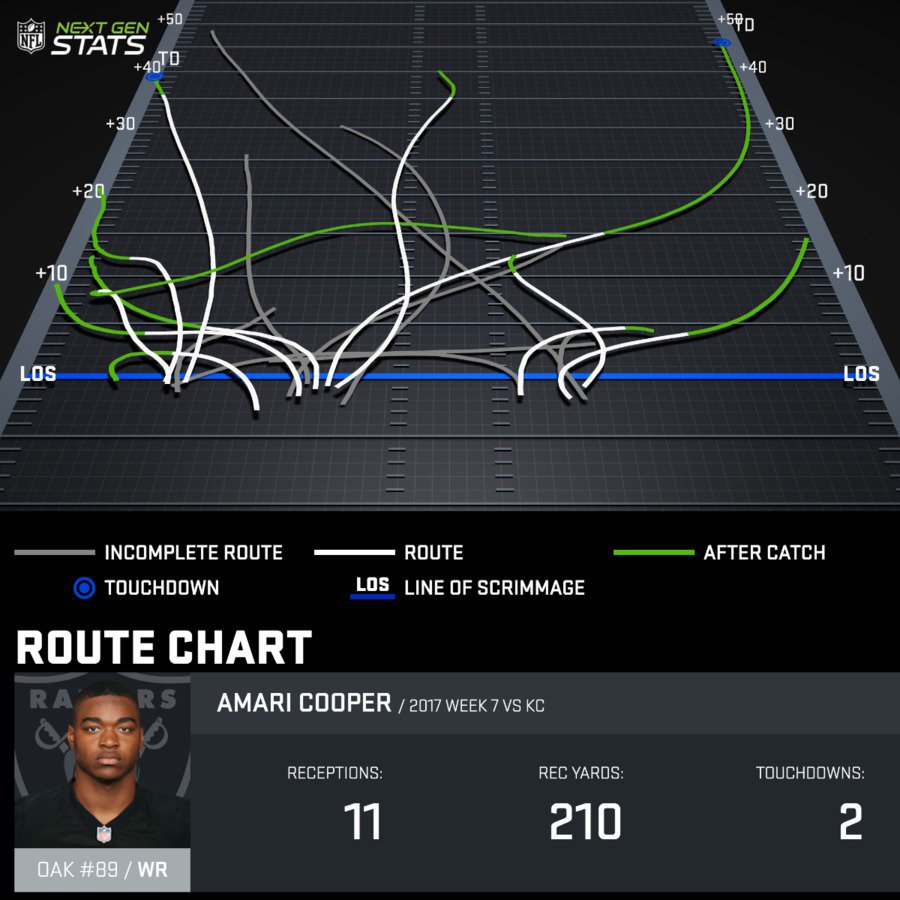 Amari should continue to produce, as long as Todd Downing can continue to utilize him like he did in Week 7. Cooper is capable of monster games and often gets the other teams no. 1 CB with safety help. Look for him to have a tough night but still be productive.
Khalil Mack vs. Jordan Mills
Jordan Mills comes into this game with a lot of heat on him, as he has been very up and down this year. Mills has not fortified the right tackle position for the Bills and instead has been a turnstile for edge rushers. Unfortunately for the Bills and fortunately for the Raiders, they do not have any other options.
Expect the Bills to make sure Mills has plenty of help with Mack. This is the kind of situation where Mack can absolutely take over a game. If the Raiders can scheme some one on one's for him, look for Khalil to record multiple sacks in this game.
Khalil Mack should have a field day against Jordan Mills 🍗 pic.twitter.com/mFInkxcKkn

— #LiikDidIT (@Obee1ne) October 23, 2017
Mario Edward Jr. vs. Richie Incognito
Richie Incognito has made the Pro Bowl for the last two years, and for good reason. The guy is a flat out mauler in the trenches, and he brings a nastiness to the Buffalo o-line. He has paved the way for their 13th ranked run game, and Mario Edwards Jr. and the rest of the d-line are in for a challenge.
Edwards has been fantastic this season, putting up 3 sacks on the season, second on the team only Khalil Mack. He is also tied with teammate Denico Autry with 13 total pressures on the season. But wait, there's more! (Billy Mays voice)…Super Mario is even better against the run than he is as a pass rusher, posting 13 run stops thus far.
Mario getting a sack and check out Jelly drop into coverage. Let him jam Hill at the line. 😂 pic.twitter.com/zQbAC4EgP6

— Chris Reed (@LVRaidersreview) October 24, 2017
NaVorro Bowman vs. LeSean McCoy
On the season, LeSean McCoy has rushed for 370 yards on 110 carries and 2 TDs. McCoy is only averaging 3.4 YPC but he remains a threat to take it to the house on every carry. McCoy has also been used as a receiving back as well, with 220 yards on 32 receptions on the season.
Welcome to Oakland, NaVorro.#KCvsOAK pic.twitter.com/3AEj8vzsol

— OAKLAND RAIDERS (@RAIDERS) October 20, 2017
Enter NaVorro Bowman, newly acquired by the Raiders on October 16. He was an absolute force against the Chiefs, and even more impressive, he wore the green dot after only three days on the team. If Bowman plays anything like he did against the Chiefs, he will prove to be a major factor for the Oakland defense in containing Shady McCoy.
Great anticipation by Bowman results in a tackle for loss. pic.twitter.com/XeXSB6pk2w

— #LiikDidIT (@Obee1ne) October 22, 2017
Marshall Newhouse vs. Jerry Hughes
Jerry Hughes is the top pass rusher for the Bills, leading that defense with 3 sacks on the year. Hughes has a slight advantage in this game with Raiders starting right tackle Marshall Newhouse banged up. If Newhouse misses this game, Hughes will draw a favorable matchup against backup Vadal Alexander.
Jameis gets strip sacked, although this one is all on Dovovan Smith. Jerry Hughes absolutely cooks him. pic.twitter.com/3VrUgmKCtW

— Riley Auman (@junioraumanac) October 22, 2017
Vadal struggled against Kansas City with Newhouse missing the game, allowing 10 pressures. Newhouse has been an elite signing at this point and has played like a top tier RT. If he is healthy enough to play, he will be a much needed presence on the line, and will help shore up the protection in what once again looks like an electric offense.